Flaring Machines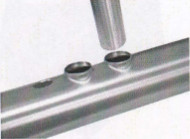 Flaring machines flare the end of copper tubes for assembly with compression fittings.
The flaring is performed by rolling the tool inside the end of the tubing. No lubrication is required for this process.
Our machines are safe to operate. The moving parts are fully enclosed.
Our Flaring Machines are just one type of machinery that Optimex Engineering can design and manufacture. Click here for more information about our custom machinery.
We can evaluate the requirements of an intended project and submit a competitive proposal.
sitemap xml